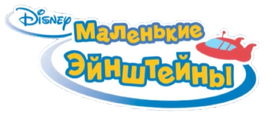 Маленькие Эйнштейны (lit. Little Einsteins, referred to as Маленькі Енштейни on PLUSPLUS and Маленькі Ейнштейни on K1) is the Russian dub of Little Einsteins.
Voices
Konstantin Yefimov as Leo
Vera Svetlova as Annie (speaking)
Yelizaveta Nivalayten as Annie (singing)
Sonya Konstantinova as June (speaking)
El'vira Ishmuratova as June (singing)
Vlad Murokh as Quincy (speaking)
Denis Gorbatenko as Quincy (singing)
Mihali Prokofev as the voiceover of English text
Additional voice provided by Saule Iskakova in season 2
Credits
Director - Tamara Sememkova
Translator - Mihali Prokofev
Lyrics and Synchronous Text author - Elena Stavrogina
Musical supervisor - Aleksandr Nikiforov (season 1) and Kira Malevskaya (season 2)
Audio mixing - Aleksandr Lukiarov and Aleksandr Chupryn
Community content is available under
CC-BY-SA
unless otherwise noted.